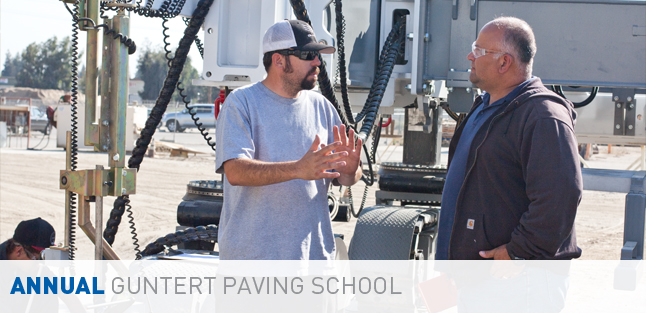 ProVal Class Files

Click the link 'ProVAL 3.40.0297'
Under - Software > Current Versions

REGISTRATION FOR 2017 PAVING SCHOOL IS NOW OPEN

PAVING SCHOOL IS CURRENTLY SCHEDULED FOR THE WEEK OF FEBRUARY 6, 2017

The cost per day is expected to be $150 per person.

Last year, G&Z offered EGON: Plus+1 Platform (S400, S600, New S850s and New S1500s) on machine controls, and troubleshooting classes. If you do not own an EGON equipped machine, there are several classes that will still be beneficial for you to attend.

G&Z will be employing a track system to help with scheduling and targeted classroom information. Below is our track list for download. Please do not book any travel prior to speaking with a G&Z representative.

Track and Class List | Hotel and Airport Information

After registering, a G&Z representative will contact you to ensure proper scheduling and availability. Please do not book flights or hotels without speaking to a G&Z Representative.

Who Should Attend?

The 2017 Paving School Program has been updated to include classes that are beneficial to every member of your paving crew from Operator to Superintendent.

When?

G&Z Paving School will take place the week of February 6th, 2017. Further details on the weeks schedule will be made available soon.





Guntert & Zimmerman (G&Z) Paving School has been teaching industry leading contractors for over 20 years. The curriculum includes hands-on controls and troubleshooting classes. G&Z classes are designed to assist contractors in preparing to have a busy and profitable concrete construction season. Each class provides valuable knowledge that will make a difference throughout the year.

Every year G&Z's engineering, service, and sales management team make themselves available to attendees who have questions or challenges. This face to face interaction allows for stimulating conversation that benefits all of the contractors attending. G&Z believes that one of the most beneficial aspects of paving school is the contractor to contractor networking. G&Z has designed into its curriculum specific times for interaction between attendees. These fruitful times allow for discussion and problem solving.

With the bidding table getting more aggressive, a properly educated crew can make all of the difference. Consider sending your team to G&Z Paving School.